Who We Are

First Baptist Church of Hicks Addition is a church of baptized believers. We believe that Jesus Christ is the Son of God who died on the cross for the sins of mankind. We also believe if you confess Jesus as Lord, you will be saved from your sins and its punishment and reserve your place in heaven for all eternity.

Our Vision: "First Baptist will be a church community within the local community ministering the whole gospel of Jesus Christ for the whole person."

Our Mission: The First Baptist Church is committed to share the gospel of Jesus Christ to those who do not have a personal relationship with Him, through preaching, teaching, and evangelism; and disciple them to responsible church membership.


Click on images
This month we are celebrating Pastor Craig A. Finley and First Lady Tiffany's 10th Pastoral Anniversary
Words of encouragement or appreciation, you can send that information to revfinley90@gmail.com

Also, if you would like to make a financial contribution, you can send your love offering through Givelify. Search for First Baptist Church Hicks Addition, select give and choose Pastors Anniversary. You can also give through

cash app at $RevFinley

.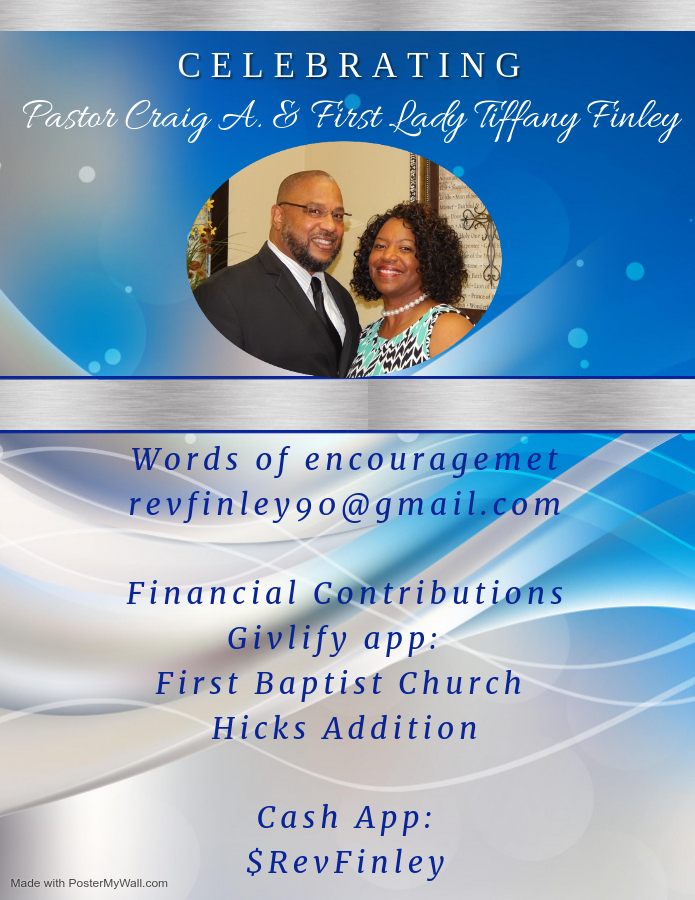 Church Service Times:
Sunday Morning Fulfillment
9:30 a.m.
Sunday Morning Service
10:00 a.m.
Saturday Morning Prayer and Bible Study 12:00 p.m.
Grief Ministry Saturday Morning 10:00 a.m.

VIRTUAL SERVICES:
Zoom Bible Study Saturday at 12:00 noon Central Time,
1:00 pm Eastern Standard Time.
Zoom Prayer Meeting Wednesday night at 6:30 pm Central Time,
7:30 pm Eastern Standard Time.
Facebook Sunday Service at 10:00 am Central Time,
11:00 am Eastern Standard Time.
Get In Touch
First Baptist Church of Hicks Addition
3307 Post Road
Spencer, Ok 73084
t. 405-769-4363